Connie, Office Manager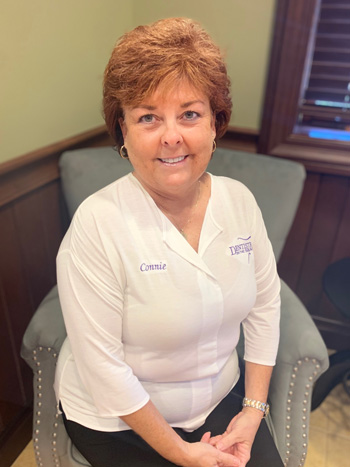 Connie hails from Maryland where her 20 year dental career included training and certification as a Certified Dental Assistant with Expanded Functions, an Office Manager and Patient and Treatment Coordinator in general dentistry as well as with a specialist in periodontics and dental implants. She graduated from Catonsville Community College with an AA Degree in Business Administration. Connie moved to The Villages in 2010 and is a Village resident. She has continued her dental career here in The Villages and is very excited to be a part of Dr. Pellosie's Team! Connie is a member of AADOM (American Association of Dental Office Management) and serves as Secretary/Treasurer of the local North Central Florida Chapter.
Connie has been married to Jeff since 1993 and daughter Jennifer and her four grandchildren Colt, Chase, Sadie and Brady live here in Florida. On the weekends, you'll find her cheering in the stands at football, lacrosse and soccer games and cheerleading and gymnastic competitions; her grandkids #1 fan! In her spare time, she is a water aerobics instructor and always finds time to relax and soak in the sun at the beach.
"You've gotta dance like there's nobody watching; love like you'll never be hurt; sing like there's nobody listening; and live like it's heaven on earth". William W. Purkey
Alicia, Scheduling Coordinator
Alicia has been in the Administrative and Customer Service field since 1998 and is a Veteran of the United States Army. Born and raised in Houston, Texas, Alicia has been in Central Florida for over 3 years. She earned an Associate's Degree in Health Sciences from Sanford-Brown and an Associate's Degree in Medical Assisting. We were grateful to find Alicia and she's been part of our team since July 2018. Alicia finds exceptional customer care is a rewarding part of her career.
Away from the office, Alicia enjoys exploring all of Florida with her husband and 2 children. Quality beach time and memories are important to her and her family. She is an active member of a local gym where she spends most of her time weight training 6 times a week.
"The future belongs to those who believe in the beauty of their dreams."
Denise, Registered Dental Hygienist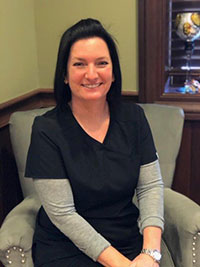 I graduated from Tallahassee Community College in 2003 where I earned my Associated of Science Degree in Dental Hygiene. I am passionate about teaching my patients about the health of their gums and teeth but what I enjoy most about my career in Dental Hygiene are the relationships that I have built with my patients over the years.
In my free time you may find me traveling, hiking, biking riding and site seeing with my husband, Rob. My family also includes our two cocker spaniels, Bentley and Lexi and our two cats, Bonnie and Clyde.
Andrea, Registered Dental Hygienist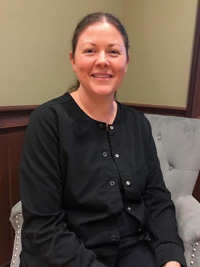 I am originally from Michigan and graduated with my Dental Hygiene Degree from Grand Rapids Community College in 2008. I feel that the most rewarding aspect of practicing dental hygiene is improving the health of my patients while at the same time, building confidence, trust and friendship with each patient.
Outside of the office, I enjoy cooking, yoga and spending time with my children.
Jill, Certified Dental Assistant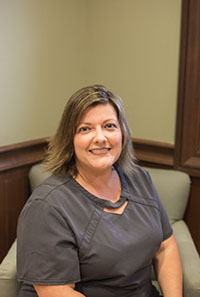 Jill has been an enthusiastic Dental Assistant since 1999. She moved to Central Florida from Kokomo Indiana (Go Hoosiers!!). Jill earned her Associates Degree and Certificate in Dental Assisting from Indiana University Kokoma. We were fortunate to welcome Jill to our team in 2016. Continuing education is important to Jill, she has taken several courses at LVI in Las Vegas along with coursework specializing in cosmetic dentistry. It is very rewarding to help people improve thier smile!!
When Jill is at home she enjoys spending time with her husband who is a Wild Land Firefighter, her four children, and her black lab. She also enjoys spending time with family and friends on the lake, youth activities, and annual family trips.
"Be adaptable, flexible, and never stop learning. The rate of change will never stop and niether should you."
Jordian, Certified Dental Assistant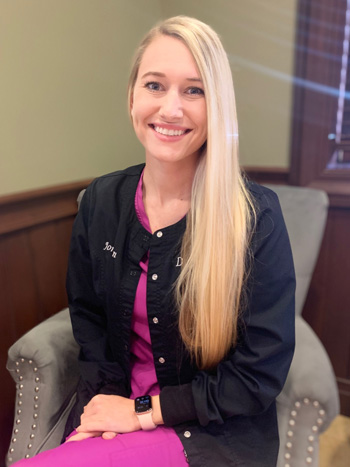 Hi! My name is Jordian. I am a Florida native and feel lucky to call this home. I graduated from Greater Orlando Dental Assisting school in 2014 where I received my Expanded Functions Dental Assisting and Radiology certification. I love being a dental assistant and helping you maintain and achieve a beautiful and healthy smile. Dr. Pellosie is a fantastic dentist to work with. I enjoy working with her and the rest of my team every day.
My free time is spent with my husband and our two girls, Mackenzie and Blakely. We enjoy camping, boating and cookouts with family and friends.
"Your smile is your logo, your personality is your business card, how you leave others feeling after having an experience with you becomes your trademark."